SS Great Britain and Matthew
This is the ship that set naval history off on an entirely new course. Not just the first great liner to be built entirely of iron, but also the first to be powered by a screw propellor, the SS Great Britain meant sailors didn't have to rely on favourable winds any longer – so, for the first time, predictable arrival times became possible! What's more, there's much more to explore than just this mighty contribution to maritime history! You'll also see the Matthew – a replica of the sailing ship that left Bristol to discover Newfoundland in 1497 – and entry to the Maritime Heritage museum, which traces the history of shipbuilding from the days of wood and sail to today's designs of diesel power and plastic!
Bristol Industrial Museum
Bristol's industrial past is rich and fascinating. Displays cover transport and maritime innovation, the transatlantic slave trade, and printing galleries.
Princes Wharf, Wapping Road, Bristol BS1 4RN Telephone: 0117 925 1470. Open: April to October, Saturday to Wednesday, 10am to 5pm. November to March, Saturday and Sunday, 10am to 5pm. Free admission.
City Museum and Art Gallery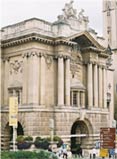 Countless wonderful objects under one roof! Minerals, Egyptology, seven art galleries, ceramics, natural history, archaeology and temporary exhibitions. Café and superb gift shop.
Queen's Road, Bristol BS8 1RL.
Open: 7 days a week and most Bank Holidays, 10am to 5pm. Free Admission.
Clifton Suspension Bridge Visitor Centre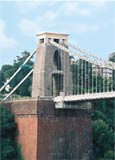 The centre's just 200 metres from Brunel's world-famous bridge, and tells its fascinating story through an exhibition, antique memorabilia, models, an interactive suspension bridge and a children's playroom and art exhibition.
Bridge House, Sion place, Clifton, Bristol BS8 4AP.
Open: 10am to 5pm every day from April to October. November to March 11am to 4pm (5pm Saturday and Sunday)
Bristol ZooBristol Zoo Gardens
With over 300 species of wildlife in beautiful surroundings, there's a huge amount to experience. The recently opened 'Seal and Penguin Coasts', with fantastic underwater viewing, now joins favourites including Gorilla Island, Bug World, Twilight World, the Aquarium, The Reptile House and the children's play area.
Clifton, Bristol BS8 3HA.
Open: Daily from 9 am to approx 5.30 summer, 4.30 pm winter. Closed Christmas day.
British Empire & Commonwealth Museum
Housed within Brunel's historic railway station, built at the beginning of the railway revolution, the Museum charts the history of the British Empire and Commonwealth from Cabot's 1497 journey to Newfoundland.
Clock Tower Yard, Temple Meads, Bristol BS1 6QH.
Open: All year round from Saturday – Wednesday, from 10am – 5pm.
Closed on Thursday & Friday
Harbourside
Bristol's harbour stretches almost into the city centre and is alive with stores, cafés, bars and museums. The harbourside is home to the Anolfini and Watershed two of the most exciting art and media centres in the whole country. At Bristol is also situated here in the exciting modern development
At BristolAt Bristol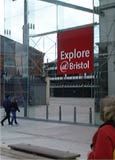 Amazing Experiences Every Day. Three brand new world-class attractions in one magnificent setting on Bristol's historic Harbourside. UK Family Attraction of the Year – The Good Britain Guide 2001. An amazing fusion of the latest interactive technology with the marvels of science and nature. Bristol's brilliant all weather destination for all ages – and one that will change the you'll see the world forever!
Wildscreen at (@) Bristol
You can journey from the origins of life to the ends of the earth, spy inside a spider's web, come face to face with scorpions, and stroll through a tropical rain forest with free-flying birds and butterflies. Not just a zoo, not just an aquarium, and not just a botanical house – Wildscreen @Bristol is all three in one stunning building.
Explore at (@) Bristol
The first truly 21st century science centre. Play virtual volleyball, enter the eye of a tornado, or be the star of your own tv show. Explore is an incredible journey through science, the forces of nature and the unique workings of the human brain and body.
IMAX®Theatre at (@) Bristol
Climb Everest, explore the Pyramids, float in space, or blast into the third dimension with Cyberworld's 3D adventure – all on a screen that's four storeys high and digital surround sound. It's in unbelievably real experience.
Anchor Road, Harbourside, Bristol, BS1 5DB.
Open: Explore and Wildscreen 10am to 6pm daily except Christmas day, IMAX®Theatre films shown every 75 minutes, 7 days a week, including evenings Thursday to Sunday.