The main focus of Broadmead BID 2 is marketing, cleansing and maintenance.
With BID 2 we are building on the very successful BID 1.  Having completed the transformation of the pedestrianised streets, BID 2 funding is helping us to promote Broadmead with a series of marketing campaigns.
Marketing
At the start of BID 2 retailers were strongly in favour of showcasing the transformed pedestrian streets and a successful calendar of events was delivered during key trading periods.  These activities helped us to build on our fantastic relationship with our media partners and leveraged a huge amount of positive coverage across press and broadcast outlets.
Following a comprehensive research project carried out by Destination Bristol (part-funded by the BID) in the summer of 2010, the focus of the BID 2 marketing campaign changed. It was agreed after consultation with the retailers that the new aim should be to unite the whole Bristol city centre shopping area by promoting it as "one retail destination".
BID 2 funded an exciting, ground-breaking advertising campaign in Spring 2011, the aim of which was to encourage residents in our competitor towns and cities to "Discover Bristol – The South West's shopping capital".  Using a three-pronged approach we advertised on bus sides in Bath, Cheltenham, Stroud, Gloucester, Taunton, Wells, Weston-Super-Mare, Yeovil and Swindon and on posters at rail stations in Bath, Cheltenham, Gloucester, Swindon, Taunton and Weston-Super-Mare.  The campaign also included radio advertising with Heart FM in Bath, Somerset, Wiltshire and Goucestershier featured competitions to win prizes to the value of £2,000.  To reinforce the message, this campaign was repeated in the autumn of 2011.
Utilising Destination Bristol's marketing and PR expertise, we have ensured that the retail area has been promoted fully within the region and beyond.  Destination Bristol's in-house team have developed and delivered a PR calendar which maximises exposure for the shopping area at all key trading times and which ties in with all regional and national events.
During Year 4 of BID 2, we will be looking at innovative ways of engaging more effectively with retailers to ensure that BID 2 provides the best possible programme of services for all the levy payers.
We are keen to continue to continue to promote the Bristol city centre shopping area as "one fantastic destination".  Future advertising campaigns are planned totarget specific geographic areas from which we can grow our footfall by delivering key messages to encourage more visitors into Bristol city centre.
Our commitment to improving the appearance of the shopping area remains and we will continue to improve the look of any empty retail units with colourful vinyls and to purchase further floral displays in summer 2012.  We will also hold several major annual events in the shopping area in order to animate the streets and increase visitor spend and dwell time.
Yet again following feedback from retailers and customers we purchased additional Christmas lights for the shopping area in 2011 which resulted in our biggest and best display ever.
We look forward to working with retailers to deliver a successful fourth year of BID 2 and once again we will be encouraging continual feedback from the retailers in the BID area.
Cleansing and maintenance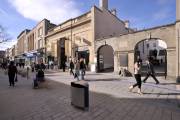 Environmental standards in the city centre retail area have been raised considerably, ensuring that the cleansing activity matches the benchmark set by Cabot Circus and The Galleries.  Specific activities made possible by BID 2 include:
– hourly sweeping of litter including cigarette ends
– washing of the streets and street furniture
– removal of tagging and graffiti
– removal of chewing gum
– prompt and efficient trade waste disposal- maintaining street furniture and paving
Maintenance of the street furniture and paving has also been a priority for the management team.  The first Broadmead BID focussed on transforming the street scene with new paving, a whole new suite of furniture and new lighting; it is essential that we continue to safeguard this investment.
The BID team constantly surveys the shopping area and arranges for damaged street furniture and paving to be repaired or replaced as appropriate without delay.  We are committed to this high level of maintenance for the duration of BID 2.
We look forward to working with the retailers to deliver another successful year of BID 2.