We are sure you'll be impressed with the choice on offer in Broadmead. Our selection of national stores and our wide range of independent retailers means that Broadmead offers a diversity of stores difficult to beat.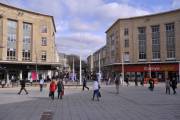 From your weekly groceries to children's toys, from the latest fashions to electrical appliances, it is little wonder Broadmead is attracting so many new shoppers every week.
Broadmead is also home to The Odeon cinema. Located on Union St, The Odeon offers film fanatics the chance to see the latest blockbusters at affordable prices
CCTV, Shop Safe Radionet and a dedicated police team keep the whole shopping experience safe, secure, and totally enjoyable for all ages.
Broadmead, The Galleries and Cabot Circus between them offer over 450 stores so you'll be sure to find everything you need here. To help you find the stores you're looking for, please use the shopping search facility on the right of this page.
The Galleries, an attractive, three-storey shopping centre, located in the heart of Broadmead is home to Boots, WH Smith, TK Maxx and a further 100 stores. The Galleries also boasts a safe, modern, car park with 1,000 spaces, all with special shopper tariffs. For more information about The Galleries, please click here.
Cabot Circus, a great modern shopping centre adjacent to Broadmead opened in September 2008 and is a fantastic addition to the city of Bristol. Cabot Circus comprises 140 shops including 15 major landmark stores, 25 new restaurants and cafes, a grand European-style piazza and a 13 screen Cinema De Lux. For information about Cabot Circus including travel information and a full store listing please click here.
So, don't just go shopping – go to town!